'Pop-Up' Governance: developing internal governance frameworks for consortia: the example of UK10K
Life Sciences, Society and Policy
2015
11:10
Received: 27 May 2015
Accepted: 15 September 2015
Published: 28 September 2015
Abstract
Innovations in information technologies have facilitated the development of new styles of research networks and forms of governance. This is evident in genomics where increasingly, research is carried out by large, interdisciplinary consortia focussing on a specific research endeavour. The UK10K project is an example of a human genomics consortium funded to provide insights into the genomics of rare conditions, and establish a community resource from generated sequence data. To achieve its objectives according to the agreed timetable, the UK10K project established an internal governance system to expedite the research and to deal with the complex issues that arose. The project's governance structure exemplifies a new form of network governance called 'pop-up' governance. 'Pop-up' because: it was put together quickly, existed for a specific period, was designed for a specific purpose, and was dismantled easily on project completion. In this paper, we use UK10K to describe how 'pop-up' governance works on the ground and how relational, hierarchical and contractual governance mechanisms are used in this new form of network governance.
Keywords
ConsortiaGenomics-research'Pop-up' governanceNetworks
Introduction
Information technologies have facilitated the development of networks, leading to new styles and forms of governance (Kersbergen & Waarden
2004
). This is evident in the biomedical research context where research is increasingly carried out by large consortia that bring together interdisciplinary networks of researchers and institutions to focus on a specific research endeavour. Quite often, these projects are funded for a specific purpose over a limited funding period, and so are working to tight deadlines which require clear management, coordination and cooperation to achieve the goals of the project. Research must progress according to the agreed timetable, and allocated finances must be spent according to the approved grant submission. In response to these demands, new forms of network governance have developed to deal with the potentially contentious issues arising from the research activities of the consortium, such as publication moratoria, management of incidental findings, data access, as well as being accountable to external bodies. We are calling this new form of network governance 'pop-up governance', because it is established for a limited duration and purpose, and is dismantled once the project ends and it is no longer needed.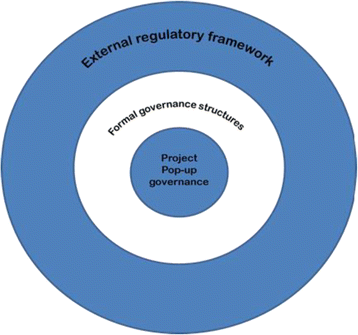 The system of committees and processes developed in the UK10K project (2010 – 2013) 1 is an example of 'pop- up' governance. The UK10K consortium was initiated and led by the Wellcome Trust Sanger Institute (WTSI) and was funded to establish insights into rare genetic diseases with the sequence data generated from the project used to establish a community resource. The purpose of this paper is to describe some of the features of this new form of research governance, which is found in interconnected research networks. We will use the UK10K project as an example of how 'pop- up' governance works in practice and show how it combined the features of networks with relational, hierarchical and contractual governance mechanisms. In the final section of the paper we will analyze some of the key components that are needed to make a 'pop- up' governance structure effective.
Conclusion
For projects such as UK10K, there are limited resources both in terms of expertise and time to establish governance systems, yet there are good reasons why such projects should have a responsible and accountable governance structure in place. The 'pop- up' governance structure that was developed for UK10K provided a system of accountability and transparency in decision making that achieved a number of goals. Firstly, it had the effect of promoting trust between the members of the consortium, but also provided a structure that inspired confidence from external institutions, funders, regulators and ethical advisers. It also provided an effective governance structure for meeting the project deliverables, complying with the legal requirements of regulators in the external regulatory environment and working to best ethical practice. To achieve this, a combination of hierarchical, relational and contractual mechanisms were used that draw upon the relational features of networks to be effective.
One of the features of this project is that all of the people involved had a shared vision of what had to be achieved and a commitment to achieving the goals of the project. The project was a success because the central aims of the project also corresponded with researcher's individual research interests and goals. By working together, researchers achieved more than they would have by themselves or with a smaller partnership. The 'pop-up' governance structure united people from different disciplines and localities under a common banner of the project, while still allowing them the flexibility to use their professional expertise and judgment to carry out the tasks allocated to them. It had formal structures of decision making, such as committees with individuals with expertise who were well regarded for their professional knowledge or integrity, and were delegated by the consortium to sit on the committees. Underpinning the governance structure was a series of professional relationships based on trust, but also on the traditional scientific drivers of not wanting to be regarded as a weak member of the consortium. Therefore, 'pop-up' governance was heavily dependent not only upon good relationships between researchers, but also on strong leadership.
The benefit of the 'pop- up' governance system is that it fitted in within existing governance structures. This structure made it clear who was responsible for what, and the procedures were written down in policies which had the effect of promoting certainty and efficiency. This clarity in roles meant that everybody understood what their role was in the project and the streamlined structure also lead to benefits as it enabled scientists to do science, whilst still being involved in the governance structures. It also meant that everyone had to go through the same procedures and therefore decision making was more transparent, helping to eliminate favouritism. Such a system enabled problems to be anticipated as there were mechanisms in place to deal with routine issues but, also, unanticipated situations could be resolved efficiently. Having a governance system in place ensured that ethical and lawful research was supported through accountable and transparent decision making. This not only protected the integrity of the UK10K researchers and their institutions, but also had the effect of promoting trust between different members of the consortium.
In summary, fundamental to the successful acquisition, use and dissemination of UK10K sequence data and the undertaking of good and ethical science, was the support of a robust and flexible system of internal self-regulation, developed specifically for the project. The project governance system did not burden the project with unnecessary or inappropriate administrative checks and balances that could potentially tie up expertise and resources. The formal governance components of the UK10K project focused only on the important issues, such as best ethical practice, publications, data access, feedback of findings and accountability to funders and the sponsoring institution. All other issues were dealt with through the Management Committee, relying on the relational mechanisms of trust, co-operation and co-operation. The advantage of this internal governance framework was that it could address issues such as incidental findings, where best practice had not been established and there was no clear legal direction. The UK10K governance framework was designed to provide assurance and accountability to the researchers involved in the project, the funders of the project, the employing institutions, external regulators, ethical advisers and ultimately where necessary, the research participants themselves.
Declarations
Open AccessThis article is distributed under the terms of the Creative Commons Attribution 4.0 International License (http://creativecommons.org/licenses/by/4.0/), which permits unrestricted use, distribution, and reproduction in any medium, provided you give appropriate credit to the original author(s) and the source, provide a link to the Creative Commons license, and indicate if changes were made.
Authors' Affiliations
(1)
HeLEX Centre, Nuffield Department of Population Health, University of Oxford, Oxford, UK
(2)
Wellcome Trust Sanger Institute, Cambridge, UK
(3)
National Cancer Research Institute, London, UK
(4)
Nuffield Department of Population Health, HeLEX – Centre for Health, Law and Emerging Technologies, University of Oxford, Oxford, UK